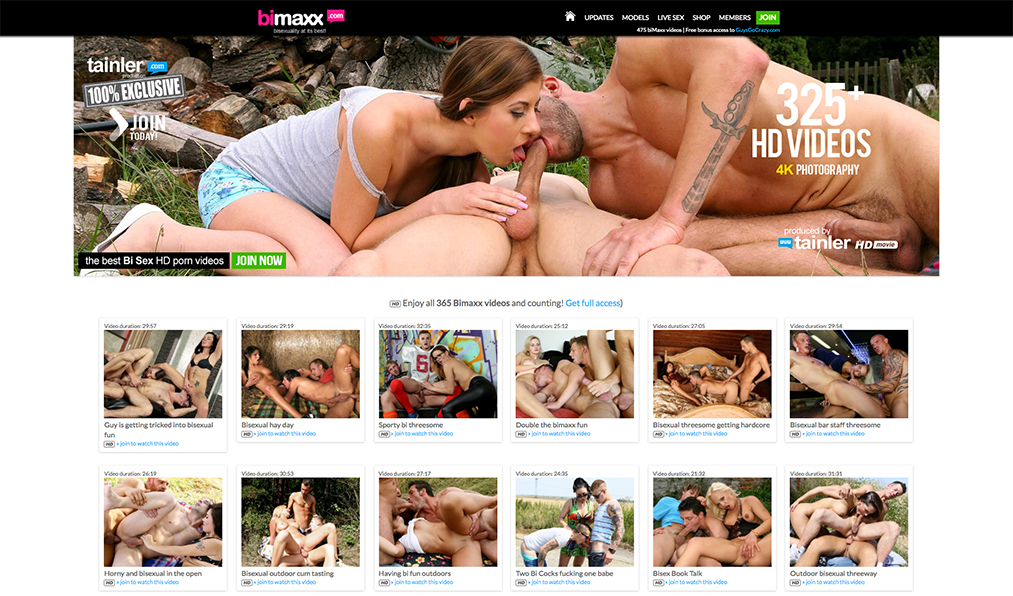 Monthly membership

$

29.95
30 days
Six-month membership

$

19.99/Mo
180 days
Summary
I know plenty of bisexual people in my life and they are the type of people that put a lot of fun in one room or in their relationships. Often, most things will not matter to them and since bisexuals tend to have lots of fun with both genders, romantically and sexually, you could say bi people have twice the fun. The bisexual tag has been looming in the air for quite some time now and a lot of porn networks are picking up on this heck of a ride because why not? Nothing is more amazing than watching steamy threesomes or foursomes or orgies with both men and women alike. The genre is getting so much recognition these days that it essentially occupies a huge percentage of the porn community. As some people would say, being attracted to only one gender is boring, why not take two so you can enjoy twice as much and I guess there is a lot of truth behind that giddy statement. After all, two blow jobs are better than one. Or so the thought goes. If there is one porn site that puts out the best content out there when it comes to bisexual porn, it is BiMaxx. BiMaxx, like their name implies, is a master of the arts when it comes to conceptualizing bisexual porn. Their content is rather enjoyable and they have a lot to offer to their members and future members. The site features a mixture of men and women with a penchant for both genders and would never settle for just one. Their primary niches circles around bisexual porn and hardcore sex. They also offer a lot that has to do with fetishes and the likes, orgy type.
Specs
BiMaxx is a pay site and before you could go about your way accessing their many given features and their numerous videos and photo sets, it is a must that you sign up for a premium membership (or a monthly membership, at most). There are various payment plans that are available when you join the site and choosing one would guarantee you a membership, anyway. Unfortunately, there is no trial version or access for the site. You will have to settle with your monthly membership. BiMaxx has a pretty classic and modest site design despite the extraordinary and unchaste content they advertise and give to their members. The design is austere, pure, and simple. The navigation here is pretty understandable, very clear, and lucid. The user interface here is straightforward, untroublesome, and you will have smooth sailing here when it comes to the UI. The site layout is neat, accurate, orderly, and precise. You will also notice that the links are found in the most accessible and glaring places, so you will not miss it once you are inside. If you are already inside, the links are found on the very top part of the page. You get links for the home page represented by an icon of a house.
Next to this is the "Updates" button which technically will bring you to a place where they will put their latest uploaded videos, then the "Models" button where you will be taken to the model index with a lot of information about your favorite gorgeous and erotic people. You get the "Live Sex" button where you can access all the live cam shows available and their playbacks. You get links for their sex shop where you can purchase a variety of sex toys and other things that will enhance your sexual pleasure. Next to this is the "Members" button where you will be prompted to a page where you can log in with your username and your password. Down the menu bar for the links, you will see a huge slideshow type of banner with lots of hardcore photos and slogans. A little below this, you will find the numerous video thumbnails that once clicked will immediately take you to where the corresponding full-length video is. The thumbnails are marked in HD and are titled rather precisely. On top of the thumbnail, you will see how long each specific video will last. There are tons of things to do here like adding the videos to your favorites and comment on them. The site also has photo sets that are available for zip download. As we speak, there are 300+ photo galleries with 150+ hi-res photos inside them. The dimensions these photos have usually are at 2240 x 1680.
Models
BiMaxx is a home for both male and female, with love for both genders. Most of the time, you will see the usual threesome that consists of two guys and one girl. Sometimes, there are foursomes and amazing orgies that you will not be able to shy away from once you get a good look at it. The thing is, every single thing here is hardcore and so it is all worth it. You will see men giving other men blowjobs, sometimes the male and the female give a rather erotic blowjob to another guy at the same time. Everything here is great porn material and worth every moment of your time. Right now, there are 300+ HD videos/scenes that are present on the site. You can watch them in-browser just as long as you have a flash player installed. You may also download them in several formats like MP4 or Windows Media. There are several resolutions available and you can choose from any of it like the 1920 x 1080 resolution or the 1280 x 720 resolution.
Conclusion
BiMaxx is a wonderful site to find really good bisexual porn. Everything here is in HD so you can expect tons of great quality videos and more. There are photos and bonus sites available as well. There is enough content here to last you a long time and the updates are going quite smoothly with an update once or twice every week.
Best10pornsites.com

N/A
N/A
N/A