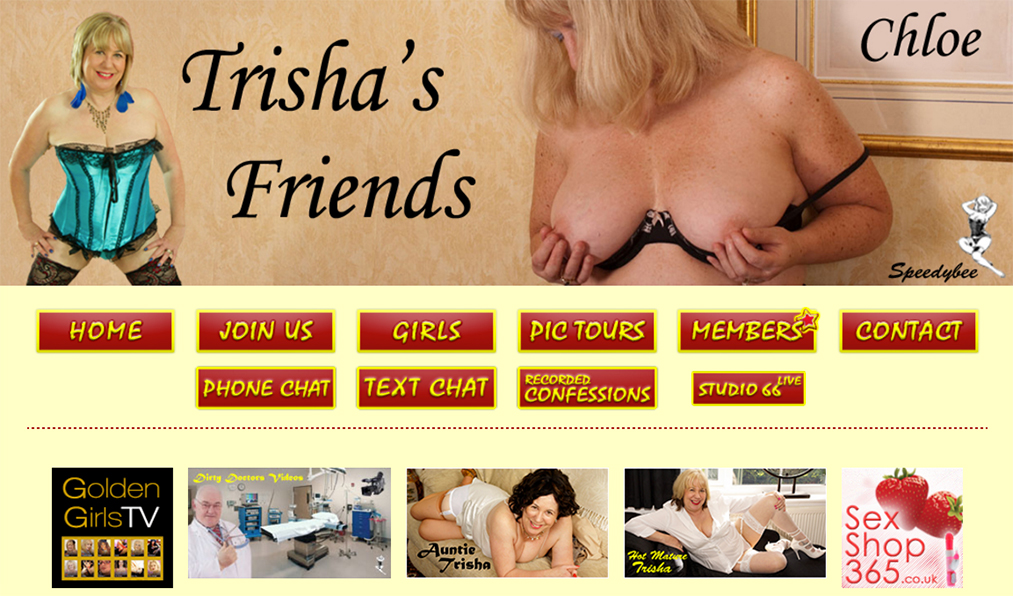 Monthly membership

$

29.99
30 days
Yearly membership

$

24.99/Mo
365 days
Summary
Looking for some hot momma and granny hardcore action? Do you have a thing for oldies who still have their freak on in bed? Then you shouldn't miss out on the never-ending suck-and-fuck fun that's happening at TrishasFriends! TrishasFriends is a premium porn site featuring celebrated amateur porn model, Trisha, and her equally horny pals. These folks may be getting up there in age but that doesn't mean they can't keep up with the 20-something crowd! And if you ask me, I could even say they've fuckin' outdone the other freshies 2 to 1! The site is updated on a regular basis, up to a minimum of 2 fresh content per week. This means you'll never run out of sizzling hot content to enjoy in a lifetime! And if that's not enough, Trisha will also treat you to a couple of bonus sites where you'll find more MILF porn goodness, in the form of HotMatureTrisha and AuntieTrisha. What more could you possibly ask for?
Specs
The first time I visited the site, I must admit I felt as if I've gone into some throwback. Why? Because the site's overall design looks a little obsolete – too old for the hot and trendy layout style that you usually see in most porn sites today. Maybe it's because of the font they used. The color scheme was visually appealing for me, I give them that. On the flip side, the functionality and navigability aren't too different from the most modern-looking websites out there. You'll be greeted by a big slideshow showcasing some of the hot ladies and a lengthy personal message from Trisha herself. Some of the more recent updates are also listed throughout the body of the main page, included a roster of their models, and a menu tab that's slapped on top of the page. Apart from the slightly old-looking layout, the main thing that sets this site apart from the rest is that it stays true to its name. It lists dozens of Trisha's friends which, luckily for our MILF porn loving selves, adds up to more than 30 loveable MILFs who are more than happy to do just about anything to satisfy our sexual desires. Add to this the fact that TrishasFriends is compatible with more popular operating systems like Windows and Mac, as well as Android and iOS. Yup, this means you can access the site using your smartphone or tablet! TrishasFriends has one of the biggest customer bases in the MILF porn scene, with a great number of members who stay loyal to Trisha and her friends. If you want to be part of their elite panel of members, you simply have to click "Join Us" from the menu tab and do the necessary procedures. Trust me, it's as easy as creampie!
Models
TrishasFriends has a massive collection of gorgeously stunning oldies, all of whom are quite talented when it comes to turning on the heat and taking their fuck buddies right to the very edge of an orgasmic precipice. Despite being amateurs, they're great performers and they put their fuckable figures into good use to give you a hell of an entertaining show. At the time of writing, there are over 400 videos and more than 100 photo sets in their archive. I have no problems with their videos at all since, despite having that amateur style we so love, they're superb in quality. Some of the older videos may appear a little grainy but the more recent updates are in glorious HD formats. Nevertheless, all of the videos, no matter their quality, are great for viewing whether on desktop or mobile. You can view the videos online with the built-in streaming video, or download and save them for offline viewing in MP4 format. As for the photo sets, each contain about 100 high-resolution stills up to 2400x1600px. This makes even birthmarks and freckles clearly visible! You can view the photos online or download your favorite sets in ZIP files. All of the ladies at TrishasFriends are always hungry for some cock, cunt, and cum. They'll take every opportunity to get some hot sex action, especially when the cameras start rolling. There's a fine mix of buxom ladies who love to do all kinds of naughty stuff. There's Busty Kim, Amanda, Chelsea, Amy, Claire, and the hot and horny Trisha herself! These chicks are seen engaging with men and women of all ages, inviting them to their humble abode and teasing them with their luscious bodies. There are various types of action here, from blowjobs and cock-tugging, ball-sucking, pussy and ass fucking, and even a dash of fetish and lesbian sex on the side. My personal favorites are the ones with sex-starved grannies fingering themselves or using all sorts of sex toys to pleasure themselves.
Conclusion
I had a fucking great time at TrishasFriends, from the moment I landed on the main page, up until watching my favorite flicks. The site is filled to the brim with gorgeous oldies who are not afraid to set their wild, twisted side free; often acting out the wildest sex fantasies you never would've even thought possible. I wasn't pleased with the slightly outdated website design but since TrishasFriends caters to amateur MILF porn, it actually felt kind of fitting, considering the nature of the content. Bottom line is that TrishasFriends is one of the better porn hubs in this niche that's worth signing up for. It's the perfect hunting ground for MILF porn fans who want more than just the usual stripping and sucking. These ladies will do everything in their power to arouse you, and their performance are sure to give porn stars a run for their money! I couldn't recommend this site enough. Pretty great, steamy stuff!