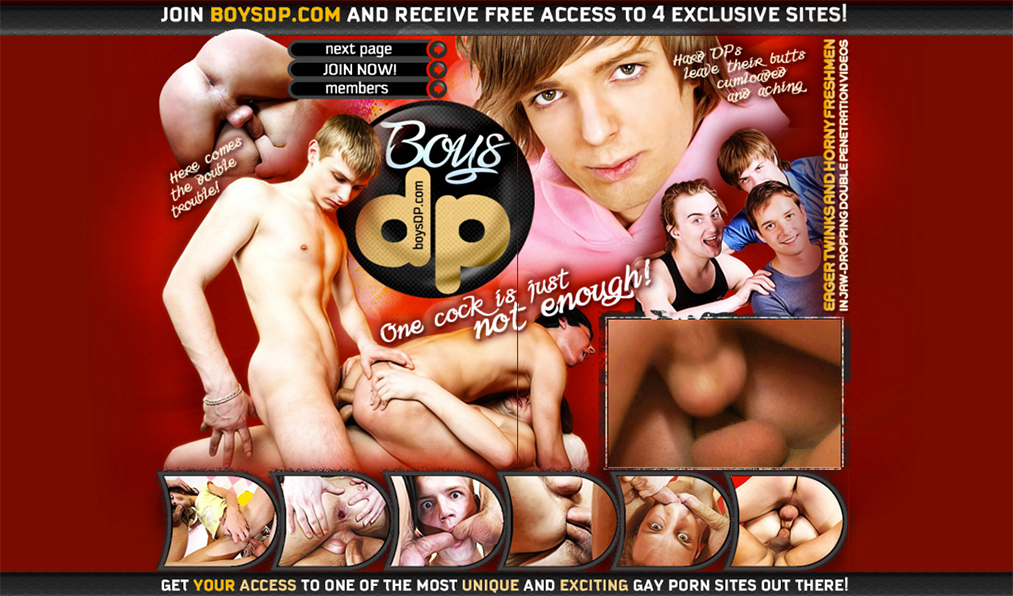 Monthly membership

$

29.95
30 days
Yearly membership

$

19.99/Mo
365 days
Summary
If you think gay double penetrations can only be achieved by brawny bears who have taken plenty enough dicks in their lifetime to have loosened up their holes, then you've got it all wrong. Why? Because slender and dainty twinks can do the same too! Make no mistake – these cuties may not have a single lean muscle in their body, but they can do double penetrations just as well as their large-framed counterparts. You can't get any more solid proof than the ones you'll find at BoysDP! The name of the site pretty much gives you an idea what the site is all about even before you visit their homepage. "DP" simply stands for "double penetration" and with boys added to the mix, expect to see high-quality videos featuring barely allowed age, cheeky dudes getting down and dirty with two monstrous cocks up in their asses. But before you consider yourself sold, there's one important thing you need to know first. Wondering when they last updated the site? 6 fucking years ago! To be more precise – around May of 2010! Well, the folks at BoysDP surely aren't in a hurry to grow their customer base, but this is a little bit over-the-top for a premium porn hub like BoysDP. That's over a half a decade's worth of complete silence and hopelessness, and I don't think a lot of horny folks out there can wait that long when there are many other options to choose from. It's a bit of a bummer, really, especially when there aren't a lot of premium porn sites that are dedicated to this sort of genre. I mean, cute twinks enjoying themselves with two monstrous cocks? That's not something you see every day! But even when the site's content is so damn hot (not to mention the quality of the videos are great), I don't think I'm too eager to wait any longer when there's clearly no sign of life here anymore. Still, I'm hoping they'd breathe life back to an otherwise amazing porn site! Add to that the fact that BoysDP gives you instant access to 4 bonus sites in their network, including BangedBoys and LoadedBoys.
Specs
BoysDP has a simple and easy-to-use website that allows you to get to where you need to be fast, even without a menu tab or advanced search tools. Why? Because they have less than 15 videos in their archive! The site sports a passion-filled color scheme draped in red color that seems to tell you these twinks are so in heat, they'd do anything to get rammed not just by one, but TWO cocks in their tight holes. While the site doesn't appear like your usual porn site layout, it did start to look outdated over time, although it seems to have no impact on the viewing experience at all. From the homepage, you'll immediately see some of their episodes, presented in 6 thumbnail previews – shots that appear to have been taken from the movie itself. You can choose to click on the "View Trailer" arrow button or go straight for "Watch the Movie". From the preview alone, you'll realize that all videos are in crisp and clear high definition, allowing you to see every bit of yummy detail. From the Members' Area, you'll find all their videos and photo sets. Everything is easily accessible from here though you'll immediately realize there isn't much for you to enjoy. All videos highlight twinks who love sucking cocks and getting fucked raw and hard in the ass. Watching these cuties with their cute, lanky frame is so exciting and arousing, especially when they start to spread their legs and welcome in two huge, veiny schlongs. There's loads of hot and wet kissing, cock sucking and tugging, rimming, and ass-fucking in these scenes. And if the videos aren't enough, there are matching photo galleries that go along with them that you can browse and enjoy. Content comes with a rating system, where the top-rated scenes are highlighted on the homepage. Again, updates are next to impossible here at BoysDP so proceed at your risk. Without the bonus content, you're going to have a serious lacking in content that might not be worth your investment at all.
Models
While they only have 10 videos so far, I'd say each of them are pretty hot and intense. Each video sticks to the site's promised theme: Boys treating themselves to threesomes and enjoying double penetration. Nothing more, nothing less. The quality of the videos is respectable, if not impressive. You can enjoy watching hot twinks sucking and fucking in glorious 720p resolution or higher. BoysDP gives you plenty of options to watch the videos. You can download them in 3 different connections speeds, including HD video for broadband and slower DSL. Heck, they even have an option for dial-up connection. Streaming is also possible though you have to download a browser plugin if you don't have one yet. The videos are available in WMV video format. Apart from the videos, I've also mentioned that each comes with a set of high-res photos that are just as intense as the flicks themselves. They're steamy, action-packed photo sets showing close-ups of the DP action, as well as the models starring in the films. Most of these photos appear to be screen caps taken from the movies, but as far as screencaps go, they're pretty high-quality. You can browse them in hands-free slideshows or download and save them in ZIP files.
Conclusion
BoysDP is worth considering, especially if you're a hardcore gay porn fan who has a thing for smooth-skinned, lanky twinks. It looks amazing from the outside, and the HD content will tempt you to sign up for it. Be warned, though, because once you delve deeper, you'll notice there's nothing much to impress you regarding the number of videos in their collection – and it certainly won't have you sticking around for long. So no matter how hot their videos are, you'll get bored too soon and might not find a value for money! Honestly, though, the boys you'll see here will shock and impress you at the same time. I mean, how could a guy with such a cute frame stretch his asshole that much to accommodate two larger-than-life cocks? Seems impossible, right? But once you watch the videos, you'll be surprised! Stretched beyond gaping and doing the nasty in front of the camera, it's a titillating scene that will have you tugging your meat for hours on end.