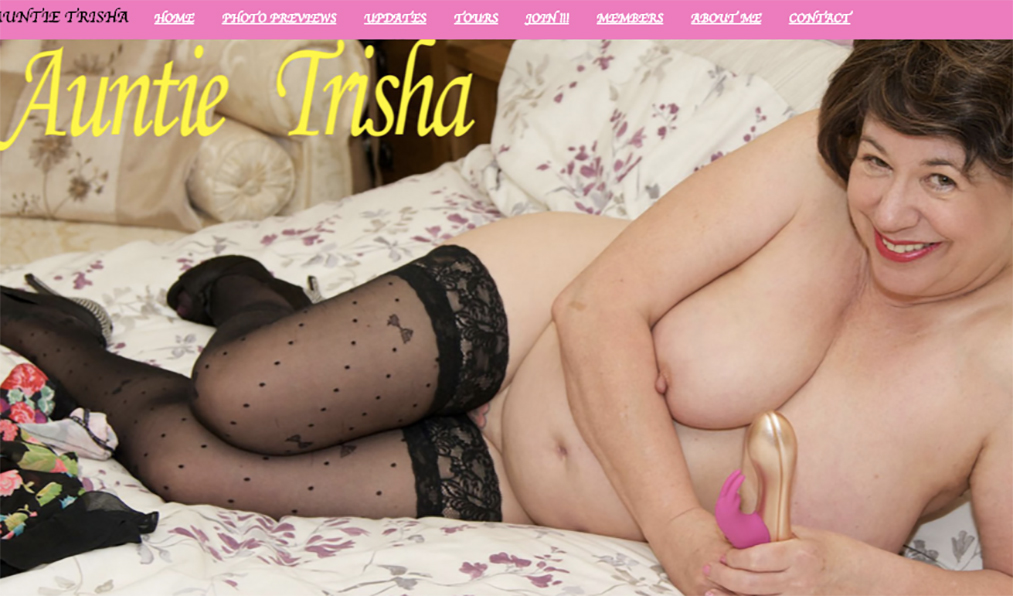 Monthly membership

$

29.50
30 days
Yearly membership

$

25.57/Mo
365 days
Summary
AuntieTrisha, as the name implies, is a premium porn hub that's dedicated to celebrated UK-based amateur porn model and actress, Trisha, who loves to share videos and photos of her in various steamy positions and raunchy scenarios. This MILF has a heart of gold and thick thighs that always seem to be coated in thick cream or syrup; seemingly telling you to lick her all over. She's a naughty slut who's ready to make every man and woman's wildest dreams come true. Trisha is exuding with personality despite being passed her prime. She has this insatiable hunger for wild sex that could only be temporarily fulfilled at the sight of huge cocks and wet cunts. Her yearning for sex made her an expert in the art of sucking and fucking. Anyone who crosses pornographic paths with this oldie won't be spared with her wild antics, that's for sure! AuntieTrisha promises real and raw amateur content featuring Trisha in all manners of dress and undress. The site seems fairly new but it updates regularly so you'll never run out of hardcore fun to enjoy. Once you sign up and become a member you'll also be treated to a couple of bonus sites featuring more MILF porn goodness: HotMatureTrisha and TrishasFriends. Yup, more of Trisha and her horny pals!
Specs
AuntieTrisha is one of the better-looking amateur MILF porn sites I've had the pleasure of reviewing. It stays true to its promise by presenting an amateur-style website and delivery of amateur naughtiness. The site is draped in dark and light pinks, seemingly reflecting Trisha's cute and bubbly personality. Scrolling down the page lets you see a bunch of wallpapers featuring Trisha in various sexy costumes, and in different steamy positions that will have you ogling at her large tits and fleshy pussy. Everything about the site is clutter-free and properly labeled and marked for easy navigation. At the top of the page, you'll see a navigation panel where you can access other parts of the site like Photo Reviews, About Me, Contact, Updates, Tours, and more. From the landing page, you'll immediately see some of the latest updates, as well as some of Trisha's best pals who often join her in steamy sessions. Each preview is neatly presented, with a couple of thumbnails and a short trailer that lets you see what a flick is all about before you even click and play. There are date stamps on every scene, including a rating system, and a nicely-sized write-up that describes the scene. There's plenty of arousing sneak peeks to make you feel good. Overall, navigation is nice and simple, with some decent update information. In fact, if you've visited the bonus sites, you'll notice that they all share the same website design, except that there are varying color schemes and content to enjoy. It's really good that AuntieTrisha comes with individual sections where you can find everything the site has to offer. It even has some decent viewing options too, like the ability to stream or download the videos.
Models
Auntie Trisha is the mistress of gooeyness who loves to strip in front of the camera and tease her viewers as she pours some juicy goo and moisture all over her body. Sometimes, she invites her girlfriends to join in on the fun, getting down and dirty as they cover themselves up with syrup and lick each other's tits and pussy. You'll see plenty of leather corsets, garter belts, hot heels, stockings, and a whole lot of melon-like boobs and a few extra pounds! Trisha's yearning for the mind-blowing orgasms keeps the site sizzling hot! Trisha is a self-confessed bisexual cougar who's hungry for some wild and passionate sex. Sometimes, she likes to tease you by fingering her pussy or playing with a few kinky toys. In other occasions, you'll see her moaning and screaming with delight as she gets sucked and licked by two of her best pals. There's one particular scene where she engaged herself in a steamy threesome with her lady friend Savana, who was later joined by her equally hot old maid Fifi. The flick started with a little bit of teasing, of course, but the raunchy action quickly escalated as panties dropped to the floor, legs are spread, and tongues are flicked inside wet cunts. Trisha is so eager to get a taste of some yummy cherries that she didn't hesitate to finger and lick Savana and Fifi until they finally squirted! Oh! and before I forget, Trisha has a few other kinks besides girl-to-girl sex. This old chick loves to pee in front of the camera, so you better watch out for some more juicy content as she plays with a few cocks and pussies and letting out her juice as she cums with delight! I'm pretty sure you'll love them just as much as I do. There's plenty of lesbian sex, masturbation, and hardcore action going on at AuntieTrisha – all of which are brought to you by this one special lady who's a solid proof that age is just a number! All of the videos and photos show nicely in various viewing qualities. There's an abundance of HD flicks to enjoy, as well as dozens of steamy high-res photo sets to jock off to. You have the option to either download or stream them. The average playback is 15 minutes though I've seen some videos that run for as long as 25 minutes. The older videos tend to come in standard definition but the newer releases are in HD, as what's promised throughout the intro. Overall, the quality of the videos is excellent, and the sound is just as impressive. No matter the theme, you're sure to be stimulated by Trisha as she starts teasing you with her luscious body. I could also say the same for the photo sets. Though not updated as regularly as the videos, the photo sets do contain some steamy digital stills of Trisha and her friends involved in various raunchy scenes. Most of the photos are in high-resolution though there are some that contain average-quality vidcaps. Trust me, though, because the photos are just as good as the videos, and can be downloaded and saved in ZIP files.
Conclusion
Trisha wants you to love and adore her, and she's got some steamy stories to share to you, too! You'll definitely learn a lot of naughty stuff from this fuckable aunt, and she's a living proof that being sexy and irresistible comes with age and experience. So if you need a dose of softcore and hardcore action highlighting horny aging women in steamy sex scenes, no grandma sex could be as wild as the ones you'll see at AuntieTrisha!